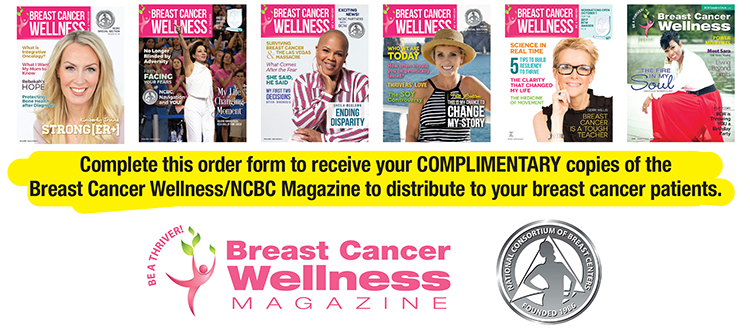 The Breast Cancer Wellness Magazine is a national award winning quarterly publication that focuses on whole person care after diagnosis. Now in its 16th year in print, the magazine provides education and inspiration for breast cancer survivors' physical, emotional, mental, and spiritual needs.
Yes, you can receive complimentary issues of the Breast Cancer Wellness Magazine every quarter by simply completing and returning this form.
Sign up TODAY to receive your COMPLIMENTARY copies of the Breast Cancer Wellness /NCBC Magazine every quarter.
As you know, NCBC (www.breastcare.org) has a signature column in each issue of the Breast Cancer Wellness Magazine helping to bridge oncology communication and navigation care for breast cancer patients and survivors.
We thank you for all that you do for breast cancer survivorship!
Download the pdf version here.