Join Other Surgeons In The Lab
March 15 - 17, 2024 at the Paris Las Vegas, Nevada
The Essential Oncoplastic Surgery Course™
Register Early: Course size limited to 50 Surgeons

2023 Distinguished Faculty

Gustavo Zucca-Matthes, MD, PhD
Jay Harness, MD, FACS
Jennifer Gass, MD, FACS
Ronda Henry-Tillman, MD, FACS
Jean-Claude Schwartz, MD, FACS
Beth-Ann Lesnikoski, MD, FACS
Chris Glaser, MD, FACS
Barbara Rabinowitz, PhD, MSW, FNCBC
Cary S. Kaufman MD, FACS, FSSO
The Essential Oncoplastic Breast Surgery Course provides the spectrum of oncoplastic procedures available to breast surgeons. Hands-on education is provided by nationally recognized experts in an individualized method.
Oncoplastic Surgery is safe, has fewer re-excisions, has improved cosmetic results and has been embraced by many breast surgery organizations here and abroad. Join us at our newly expanded three-day "Essential Oncoplastic Surgery Course" using environmentally conscious customized Mastotrainer models to perform a variety of oncoplastic surgical procedures, from basic to complex. These models provide predictable anatomic issues that can be corrected using the variety of oncoplastic techniques. One-on-one instruction will occur in a see-one do-one process. Surgeons of all breast surgical skills can learn new techniques. Those who already perform oncoplastic surgery may consider applying for the "Certi­ficate of Performance in Oncoplastic Surgery™." This process will include educational lectures, documented performance of multiple techniques, and an oncoplastic surgery written test. An award report will be given that documents each procedure and all educational content and testing to validate one's own performance.


Course Highlights
20 Hours of didactic Teaching

7 hours of hands-on lab over three days

National and International Faculty

Surgical Procedures on environmentally conscious Mastotrainer

Models providing predictable anatomy to perform procedures

Earn 17.25 AMA PRA Category 1 Credits™

Opportunity to apply for the Certi­ficate of Performance in Oncoplastic Surgery™
Course includes labs all 3 days using the latest Mastotrainers.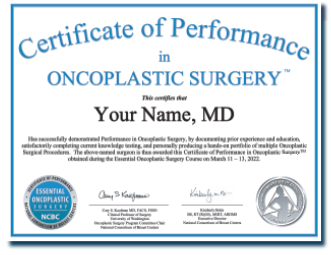 For those looking to validate your own Oncoplastic Surgery experience, apply for the "Certificate of Performance in Oncoplastic Surgery" (extra charge).

CERTIFICATE OF PERFORMANCE IN ONCOPLASTIC SURGERY™
Oncoplastic surgery has become a valuable addition to the breast surgeon's skills. Since this is an evolving set of surgical procedures and residencies and fellowships are only gradually integrating these techniques into training, other options to learn these skills have developed. There are many courses and mini-fellowships available to learn the various oncoplastic surgical techniques. Some surgeons have integrated these techniques in their set of options for patients and other surgeons have used only a few basic techniques.
There is no consistent standardization of skills that is uniformly used to validate performance, making it difficult for surgeons to demonstrate their abilities. After inviting many national experts in the variety of oncoplastic surgical techniques to teach at our course, it became clear that a Certificate in Oncoplastic Surgery would be beneficial for surgeons to validate both their education in these new techniques as well as their performance of those techniques in the lab.
We have developed a comprehensive assessment tool to validate the necessary components of skills and knowledge necessary to perform oncoplastic surgery. For surgeons who already have learned the techniques and utilized some of the techniques on their patients, we have an available process to document standardized skills with verification. This process does not guarantee hospitals will approve privileges for these surgeons, but it provides a tangible document verifying that all the components of oncoplastic surgery competence have been successfully addressed in the lab.
This process includes:
1a) General or Breast Surgeon Board Certified/Eligible with at least one year of practice,
1b) Entry level documentation of at least one prior educational course in oncoplastic surgery and confirmation (stipulation) that at least some oncoplastic procedures have been performed,
2) Benelli/Round Block Mastopexy,
3) Inframammary approach,
4) Anchor/inverted T approach,
5) Superior pedicle reduction mammoplasty via Wise Pattern,
6) Inferior pedicle reduction mammoplasty via Wise Pattern.
The comprehensive nature of this certification is demonstrated with a document which includes the description of the educational content of this course, the score of the knowledge test (either passing or fail), and a series of photographs of each of the six procedures performed. Each procedure will have three pictures which include the before view, the mid-surgery view to demonstrate surgical technique, and the final result view with which to compare with the pre-surgery view. The document will have a cover page describing the educational content of the course, a brief description of the test content, and a series of 18 photos of the six procedures. At the front of the document will be the actual Certificate of Performance in Oncoplastic Surgery.
Register to Attend
The Essential Oncoplastic Surgery Course™
3 Day Course with Hands-On Labs (Friday 3/15/24 - Sunday 3/17/24)
Fee Includes Breakfast, Online Syllabus, CME's and Registration to 3 day
Interdisciplinary Conference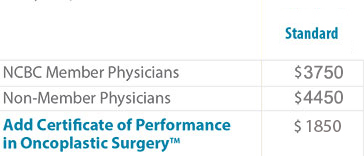 The Essential Oncoplastic Surgery Course™ with 3 Day Hands-On Lab

$

4,450.00
Add Certificate of Performance in Oncoplastic Surgery™. Includes your own Mastotrainer. After Jan 30, Please enquire to NCBC if space is available for the Certificate of Performance.

$

1,850.00