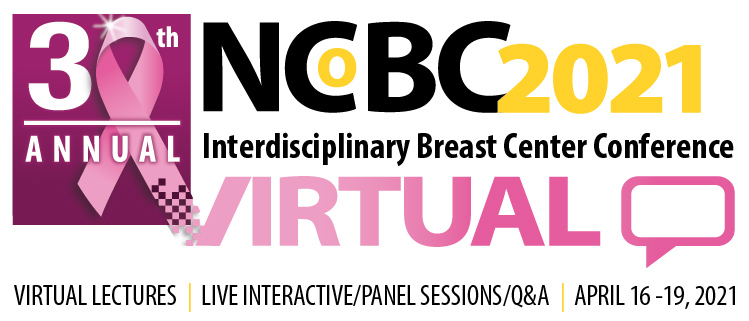 The 30th National Consortium of Breast Centers (NCBC) is now over, we look forward to seeing you next year. 

At each year's conference, the NCBC brings together medical and industry professionals from around the globe to network, learn and share ideas, methodologies and treatment options that improve quality of care and outcomes for patients diagnosed with breast diseases.  The NCBC is dedicated to providing opportunities for continuing education to oncologists, surgeons, nurses, clinicians and administrators in order to help advance the delivery of treatment options and quality of care.

Greetings and welcome!
NCoBC is approaching a significant milestone in 2021: it is the 30th anniversary of this amazing Annual Interdisciplinary Breast Center Conference, which continues to evolve as needed in order to stay relevant in the ever-changing landscape of breast care. I am honored to serve as this year's conference chair, and firmly believe that it is our mission to design a conference that meets not only the needs of every expert within the breast care continuum, but also to bring new ideas and the latest thinking in every aspect of breast care, delivered to you by truly talented speakers who are well-regarded in their field. Our planning committee worked diligently to put our program together and we are indebted to these amazing guest speakers, who care enough to come and share their knowledge and experience with us.
One quick glance of the program will show that we are serious about our commitment to every expert within the multidisciplinary breast care team. More than just providing up-to-the-minute information, it is important to me that we make this information relevant to your everyday work and challenges, and give you information that is applicable to your daily practice, and pearls which you can apply as soon as you return to your clinical work.
In addition to the main conference, there are a variety of pre- and post-conferences which will bring tremendous value to your patients and organization. This year, we are introducing several new topics, including a comprehensive lymphedema mini symposium, innovations in imaging technology, and the nuts and bolts of how to implement a high-risk program within your breast center. We want to show you how to do it, step by step. We continue to highlight the ever-growing importance of genetics in breast care, the evolving and critically important role of navigation, the latest oncoplastic surgical techniques, the importance of clinical breast assessment, and various relevant certification programs that are listed.
We understand that the difficult journey through breast cancer doesn't end with the diagnosis or surgery or radiation, it's just the beginning. This program, as a reflection of this organization and all of its passionate members, speaks to the importance of the entire continuum of care, including survivorship and beyond.
Lastly, we are taking the Covid-19 pandemic very seriously and have taken all necessary measures to ensure the safety of everyone attending the conference. Having a safe conference is of the highest priority.
We are all here for our patients and I am honored to be on your team.
With gratitude,
Khai Tran, MD
2021 NCoBC Program/Conference Chair
Breast Imaging Specialist
Sutter Health Imaging
Sacramento, CA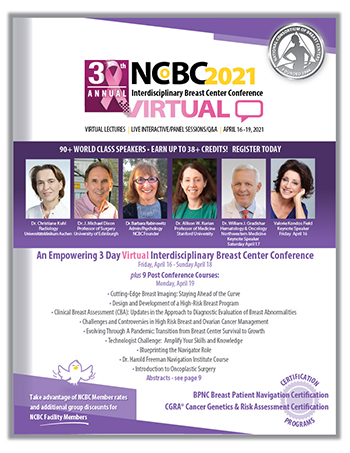 20 Page Conference Brochure Flip Book
View Now!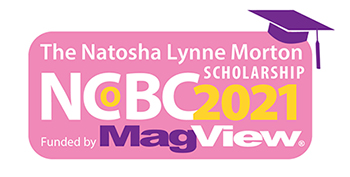 NCoBC 2021 Natosha Lynne Morton Scholarship
The Natosha Lynne Morton Scholarship funded by MagView® is to provide recognition to those Breast Health professionals who best exhibit character, compassion, and caring in conjunction with providing the best possible care to patients by paying their conference registration fee to attend the 30th Annual Interdisciplinary Breast Center Conference March 20-22 in Las Vegas, NV. Applicants must complete the questionnaire application below in the link to the best of their ability. Content will be scored by the NCBC staff based on the evidence of character, compassion, and quality of care.
Prerequisites for NCoBC 2021 Scholarship Consideration
Applicants Must:
1. Be a first-time NCoBC Annual Interdisciplinary Breast Center Conference attendee.
2. Be a current NCBC Individual or Facility Member.
3. Be a practicing breast health professional or advocate.
4. Fill out the application online found at:
https://www2.breastcare.org/welcome-to-the-annual-national-interdisciplinary-breast-center-conference/
5. Be able to pay their own transportation and accommodation fees.
6. Sign a consent form allowing NCBC and Magview® to publicize name/photos for future marketing campaigns.
Other Notes:
• The Natosha Lynne Morton Scholarship does not cover NCBC membership.
• The scholarship only covers the cost of the general conference. Pre & Post conference workshops certificates or certification exams are at the winner's expense.
• Deadline for application is December 16, 2020.
• Winner will be announced on or before January 9, 2021.
CONFERENCE REGISTRATION - Early Bird
Registration is now open.  You will save $200 by registering and paying by Feb 5th, 2021. Payment may be made via credit card or check. Please register online and select check payment if you cannot pay by credit card. Check payment must be postmarked March 1st, 2021 to be eligible for the early bird discount.  One registrant per order please.
DISCOUNTS FOR FACILITY MEMBERSHIP HOLDERS (APPLIES TO 3 DAY GENERAL CONFERENCE ONLY)
Discount applies to 3 Day Conference registration fee for up to five (5) registrants from the same facility. Not applicable towards Pre or Post conference workshops.
Receive 10% Discount off Registration for up to 5 members.  
The primary facility member is required to contact the NCBC office by noon eastern time on January 15, 2021 to receive the code. Contact the registration office at 574-401-8113.
Each registrant must submit their own individual registration by January 29, 2021. Discount code must be included with registration in order to receive the discount.
Rates for the 3 Day Conference are linked to each individual's membership standing with NCBC.  
Whether paying online or by check, discount code must be used by January 29, 2021. Check payments must be postmarked by March 1, 2021.
Refunds cannot be given if registration is submitted without discount code
CANCELLATION POLICY
NCBC will provide a full conference refund less a $50.00 processing fee until December 31, 2020. No Conference refunds will be given after January 1, 2021. No Refunds on Certifications once the Study Materials have been sent. NCBC Membership is not refundable. Credit Card convenience fees are non-refundable.
CONTINUING EDUCATION OPPORTUNITIES
The 30th Annual Interdisciplinary Breast Cancer Conference has been planned and implemented in accordance with the Essential Areas and policies of the Accreditation Council for Continuing Medical Education through a joint sponsorship of the University of Tennessee College of Medicine, an educational institution accredited by the ACCME to provide continuing medical education for physicians, and the National Consortium of Breast Centers, an international member-based organization of medical and industry professionals.  Be sure to check the conference flyer for specific continuing education opportunities during the conference.
EXHIBITOR EXPO
Don't forget to put time into your schedule to visit the largest yet Breast Center Conference Exhibit Hall, showcasing more than 70 suppliers. Learn about emerging technologies, healthcare services, operational products, new products and more.  At the Afternoon break on Sunday, we have a special Vendor Welcome planned with light refreshments to give you an opportunity to meet these amazing representatives that are dedicated to excellence in Breast Health.
SAVE THE DATES: Future Conference dates
2022 March 11-15
2023 March 24-28
2024 March 15-20