Thank you to our NCoBC 2022 Sponsors!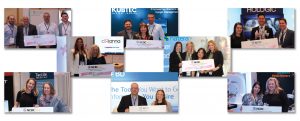 If you are interested in exhibiting at the NCoBC this coming year, please take a look at the Exhibit Kit Flip Book below. If you would prefer to download the kit, please click here to access the pdf to download and print.
Welcome to the NCoBC Exhibits. We are so thrilled with our exhibitors and sponsors. The partnerships that we have created have made the NCoBC a success from year to year. We have many opportunities for our exhibitors and sponsors to network with our attendees and to get their name in front of these professionals.
We allow companies and organizations to exhibit that have specific breast cancer related products or services. If you would like to register you can do so on our online conference harvester by clicking this link.
If you have any questions and would like to connect with the NCoBC Exhibit Manager, please email Christine Anderson at christine@breastcare.org or give her a call at 574-401-8114.